Garden & Farm
---
In partnership with NYC Parks, the Wyckoff Museum stewards 1.5 acres of some of the last remaining undeveloped farmland in Brooklyn. Through our monthly community markets, garden apprenticeship program, workshops and demonstrations, numerous volunteer opportunities, and school groups (including over 5,500 school children each year), our park and gardens serve as both an inroad to Brooklyn's agrarian past as well as a contemporary neighborhood resource for urban green space, sustainability, garden education, and food access. 
What's Growing Today
Our garden and farm is made up of edibles, medicinal plants, native plants, dye plants, and bees. The farm grows both historically relevant crops, such as corn, flax, and tobacco, and produce eaten by our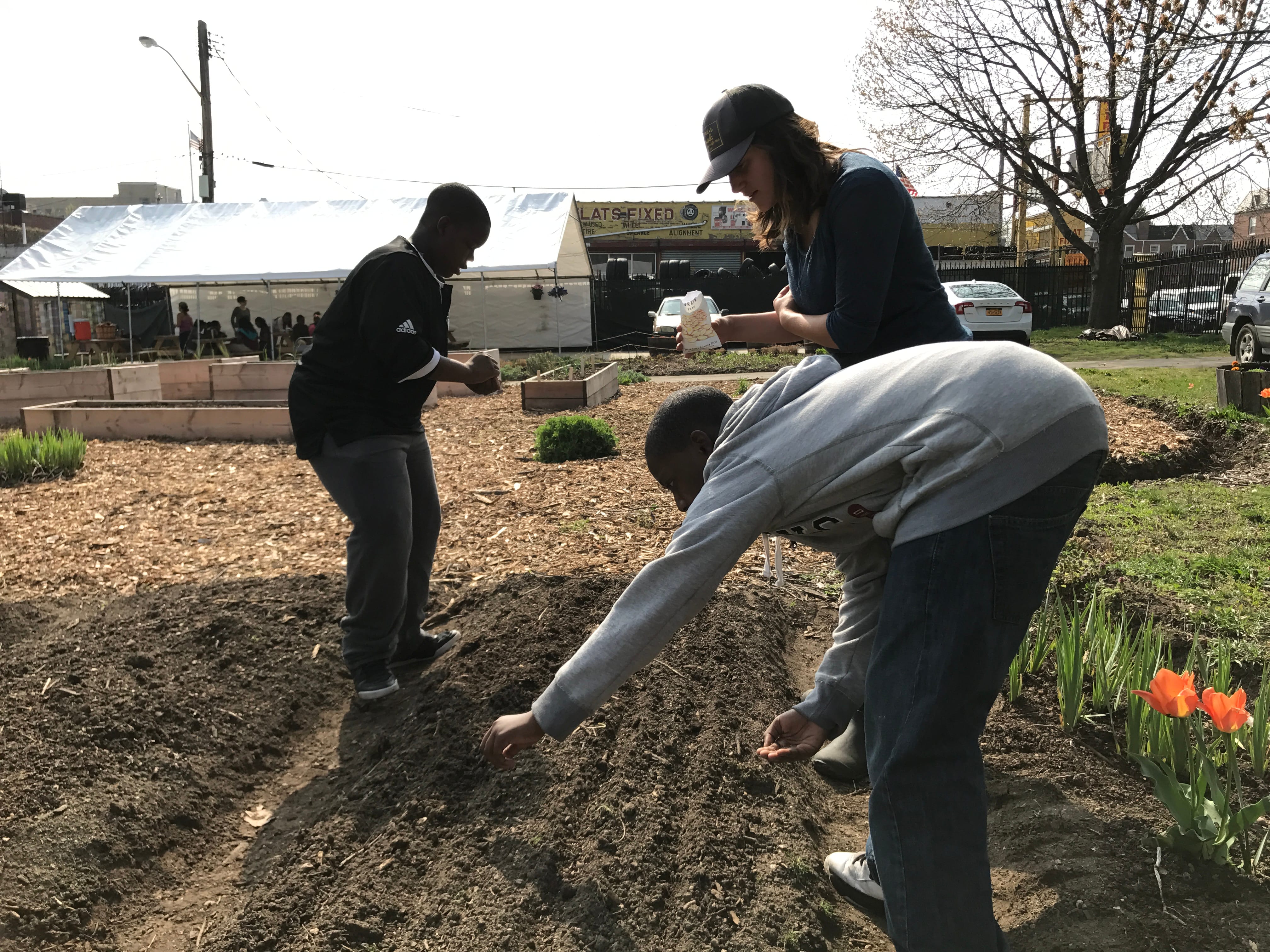 community today, including kale, callaloo, peaches, tomatoes, and more. Our medicinal herb garden is integral to our educational programming on Colonial cooking, medicine, and self-sufficiency. Our native plants serve as habitat and sustenance for our pollinators, and our natural dye plants are used in our summer camps and in the natural dye workshop offered each summer. Beginning in 2017, a very exciting collaboration with the Island Bee Project brought a hive of honeybees to our garden. Stop by our markets or our gift shop to find garden products.
Farm and Labor History
Pieter Claesen Wyckoff and his descendants farmed their property, mostly southeast of the House, from 1652 until 1901. For much of its early history, the Dutch farms of the area produced mostly grain crops, including wheat, corn, oats, rye, and hay. Due to intermittent grain shortages, this grain was often sold back to Europe through the New Amsterdam port. For their personal use, the Wyckoffs also would have grown a wide variety of vegetables and herbs, both culinary and medicinal, in their kitchen garden, along with fruit trees.
Labor in the Dutch colony was done both by hired and enslaved people, and when the British took control the practice of slavery continued and expanded. Enslaved people's labor was used for urban construction, as well as for farm and domestic work. There is no record of Pieter Claesen Wyckoff owning slaves, although he would likely have employed temporary farm workers. His son Nicholas, who resided on the property, did not own slaves, but according to the 1698 census several other members of the family did. In 1750, Nicholas' son Pieter had one enslaved man and one enslaved woman on the property. In the early 1800s Abraham Wyckoff owned three enslaved men, named Sam, Elijah, and Jack. Though the institution of slavery formally ended with the 1827 abolition, the conditions for farm laborers did not immediately improve. Many formerly enslaved people worked for their former masters into the late 19th century, and African-American laborers continued to face racial segregation and restricted civil rights.
The 19th century saw a great change in the character and production of Kings County farms. As the urban centers in Brooklyn and New York expanded, the demand for fruit and vegetables also grew. Less perishable grains were shipped from the Midwest via canals and railways. Brooklyn farms met the rising demand by producing a wide variety of fruits and vegetables, including cabbage, potatoes, sweet corn, carrots, cucumbers, beans, peas, onions, tomatoes, celery, beets, rhubarb, squash, asparagus, cauliflower, turnips, apples, cherries, raspberries, and pears. The intensive labor involved with raising and harvesting produce was largely done by women, children, African-Americans, and recently arrived European immigrants, particularly from Ireland and Germany. By the 1880s, King's County ranked second in the United States in agricultural production, second only to Queen's County.
Despite rapid urban expansion, certain sections of south-east Brooklyn (including Flatlands, Flatbush and Canarsie) remained semi-rural until the middle of the twentieth century. The Wyckoff family were one of the first in the area to sell their land to developers, in 1901, likely pressured by the incursion of the Long Island Rail Road across their property in 1897. By the 1940's the neighborhood around the property was largely urbanized. Today, the house and gardens stand as a small legacy to the centuries of agricultural labor that helped shape Brooklyn, Long Island, and New York City.