Breukelen Country Fair 2014
---
The Wyckoff Farmhouse Museum announces
The 3rd Annual Breukelen Country Fair: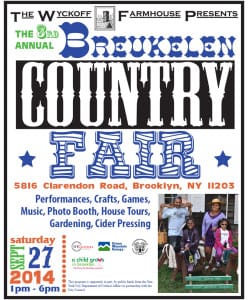 September 27, 2014, 1-5PM
FREE & Open to the public (tickets required for some activities)
Makers and Farmers Unite!
Join the Wyckoff Farmhouse museum for a day long extravaganza of crafting, creating and hands on fun! Meet the makers and learn from the past to present how Breukelen does it best!
This day long extravaganza of local making and creativity, turns the traditional harvest festival on its ear, and hosts an array of games, crafts, food, music, demonstrations and family friendly workshops led by Brooklyn based participants. Moms, Dads, Kids and more; Learn from the past to present how Breukelen does it best!
Activities will include:
Colonial and traditional homemade carnival games
Children's improv comedy class with Janae Laster
Yoga with Vegan Pecan
Storytelling and poetry with Aziza Kinteh
Cider Pressing
Featured performance with women's drum and dance collective 'Sistah's Laying Down Hands'!
Embroidery circle with Lisa Sikorski and the (faux)H
Brooklyn Botanic Garden's NYC Compost Project
Vegan cooking demonstrations
Makers Photo Booth
Face painting
Music by DJ Lovely
Hot dogs, Popcorn, Cotton Candy and farm treats
House tours of NYC's oldest house
The Breukelen Country Fair is sponsored by our partners including:




To learn how you can be involved in the 2014 Country fair as a participant, maker, sponsor, volunteer, or performer, email: programs@wyckoffmuseum.org
This program is supported, in part, by public funds from the New York City Department of Cultural Affairs in partnership with the City Council.